Speisekarten
im Sophienkeller Dresden
Wer Deftiges mag, wird bei uns fündig: Wir servieren Ihnen üppige Speisen, wie knuspriges Spanferkel frisch vom Spieß und Haxe aus der Feldküche.
Bei der Befeuchtung der trockenen Kehlen haben Sie die Qual der Wahl: zahlreiche Biersorten vom Fass, hauseigene Zechweine und erlesene Tropfen sächsischer Winzer finden sich auf der Getränkekarte – auch an Hochprozentigem mangelt es natürlich nicht.
---
Vorspeisen und kleine Gerichte
Salads, starters and cold dishes
Sächsische Kartoffelsuppe2,3
mit gebratenen Bockwurstscheiben
Saxon potato soup with roasted sausage slices
Kleine Kelle small bowl

5,90 EUR

Große Kelle large bowl

10,50 EUR

Soljanka1,2,3,7
mit Schmand und Zitrone
Sour and spicy soup with lemon and sour cream
Kleine Kelle small bowl

5,90 EUR

Große Kelle large bowl

10,50 EUR

Brotkorb Delicious home baked bread

4,20 EUR

dazu Butter with butter

1,30 EUR

dazu Schmalz with lard

1,80 EUR

dazu Avocadodip with avocado dip (VEGAN)

2,00 EUR
Sächsische Hofkäserei 1,2
mit Feigensenf und Trauben, Butter und hausgebackenem Brot
Variation of cheese with fig mustard, grapes, butter and home baked bread

15,50 EUR

Käse-Oliventeller1,6
mit Avocadodip und hausgebackenem Brot
Plate with cheese and olives served with avocado dip and home baked bread

9,90 EUR

Rucolasalat2,8,1
mit Strauchtomaten, Oliven 1,6, Peperoni 1, roten Zwiebeln und Schafskäse, dazu Kräutervinaigrette
Arugula salad with tomatoes, olives, pepperoni, red onions, sheep chees with herb vinaigrette
Kleiner Teller small plate

6,80 EUR

Großer Teller big plate

12,50 EUR

Hackepeter
garniert mit Eigelb, gehackten Zwiebeln, Gewürzgurke 2,11, hausgebackenem Brot und Butter
Minced meat with an egg yolk, chopped onions, gherkins, butter and home baked bread

11,90 EUR

Kalte Platte
belegt mit Stolpener Landschinken 2,3, Räucherlendchen 2,3, Käse, Gewürzgurken 2,11, hausgebackendem Brot und Butter
Cold plate with Stolpen ham, minced meat, cheese, pickled gherkins, home baked bread and butter

15,50 EUR

Würzfleisch vom Schwein1,3,5
mit Chamignons in einer Blätterteigpastete samt Käse gratiniert
Fine pork ragout with mushrooms, in a puff pastery gratinated with chees

9,10 EUR
---
Aus der Heeresbäckerei
From the bakery
Hähnchenfilet4 im Blätterteig
mit Spinat, Frisch- und Schafskäse eingebacken, an bunten Blattsalaten mit Kräutervinaigrette und Käsesoße
Chicken fillet with spinach, fresh and sheep cheese baked in a puff pastery, served lettuce, herb vinaigrette and cheese sauce

15,90 EUR
---
Aus Topf & Pfanne
From pot and pan
Spanferkel
mit Majoransoße an Sauerkraut3 und Königskloß2,3 mit Semmelbutter überzogen, dazu Senf
Suckling pig with marjoram sauce, sauerkraut and king-size potato dumpling covered with breadcrumbs, served with mustard

18,90 EUR

Schweineschnitzel
mit Würzfleisch1 und Käse überbacken, an Buttererbsen und Kartoffelgratin
Schnitzel of pork covered with pork ragout and cheese and served with potato croquettes and peas

17,90 EUR

Agentinisches Rumpsteak
mit Kräuterbutter, dazu Ofenkartoffel mit Kräuterquark und Salatbukett mit Vinaigrette
Argentinian Rumpsteak with herbal butter, served with baked potato, herbal curd and some lettuce with vinaigrette

25,80 EUR

Sächsischer Sauerbraten
mit Apfelrotkraut 3, Rosinensoße, Königskloß 2,3 und Semmelbutter überzogen
Saxon Sauerbraten with red cabbage, raisin sauce and a king-size potato dumpling, covered with bread crumbs

18,90 EUR

Hausgemachte Rinderroulade
gefüllt mit Zwiebeln, Speck, Senf und Gewürzgurke2,11 an Apfelrotkraut3 und Kartoffeln
Home made roulade of beef filled with onions, bacon, mustard and gherkins, served with red cabbage and potatos

18,30 EUR

Halbe ausgelöste Ente
mit Beifußsoße an Apfelrotkraut3 und Königskloß2,3 mit Semmelbutter überzogen
Half boneless duck with mugwort sauce, red cabbage and a king-size potato dumpling, covered with breadcrumbs

21,90 EUR

Ofenkartoffel
mit Kräuterquark und Räucherlachsstreifen auf mariniertem Rucola
Baked potato with herbal curd and smoked salmon slices, served with marinated arugula

12,50 EUR

Ofenwarme geräucherte Forelle
dazu Blattsalat mit Kräutervinaigrette, Apfel-Meerrettich3,5 und hausgebackenem Brot
Warm smoked trout with leaf salad and vinaigrette dressing, apple-horseradish and home baked bread

15,90 EUR
---
Vegetarische Gerichte
Vegetarian dishes
Kartoffelroulade2,3
mit Spinat und Schafskäse gefüllt an Salatbukett mit Kräutervinaigrette, dazu Käsesoße
Potato roulade filled with spinach and sheep cheese, some salad with vinaigrette dressing, served with cheese sauce

13,90 EUR

Im Ofen geschmorte Paprika
gefüllt mit Kürbis, Gräupchen, roten Linsen, verfeinert mit Kräutern, auf mariniertem Rucola
Stuffed pepper filled with pumpkin, pearl barley, red lentils and herbs on arugula salad

13,20 EUR

Kräuterspaghetti
mit Pesto, Cherrytomaten, Rucola und frischen Kräutern, verfeinert mit gehobeltem Parmesan
Spaghetti with pesto, cherry tomatoes, arugula and fresh herbs, refined with parmesan cheese

12,50 EUR
---
Für süße Naschkatzen
Desserts and Icecream
Hausgebackende Eierschecke8
Typical saxon cake from our bakery

3,90 EUR

Sächsische Quarkkäulchen 8
in Zucker gewälzt, mit Apfelmus 3 und Sahne 11
A saxon specialty made from potatoes and curd, fried and rolled in sugar with apple-sauce and whipped cream

6,90 EUR

Hausgebackener Strudel
nach Laune der Hofbäckerin mit Vanillesoße, einer Kugel Vanilleeis und Sahne 11
Home baked stroodle created by our baker with vanilla sauce, vanilla ice cream and whipped cream

7,30 EUR
Schokoladenbecher
Zwei Kugeln Schokoladen- und eine Kugel Stracciatellaeis mit Schokosoße, Schokosplittern und Sahne11
Two scoops chocolate and one scoop stracciatella ice cream with chocolate sauce, chocolate flakes and whipped cream

6,90 EUR

Gemischtes Eis
Erdbeer-, Vanille- und Schokoladeneis mit Sahne11
Mixed sundae with strawberry-, vanilla- and chocolate ice cream with whipped cream

5,70 EUR

Pfirsichbecher
Zwei Kugeln Vanille- und eine Kugel Erdbeereis, Pfirsichspalten, serviert mit einer roten Fruchtsoße, Sahne11 und Pistazien
Vanilla- and strawberry ice cream with slices of peach, served with a fruity sauce, whipped cream and pistachio nu

7,20 EUR

Nussbecher
Walnuss-, Pistazien- und Schokoladeneis garniert mit verschiedenen Nüssen und Sahne11
Walnut-, pistachio- and chocolate ice cream with mixed nuts and whipped cream

7,40 EUR

Schwedeneisbecher
Drei Kugeln Vanilleeis mit Apfelmus3, Eierlikör und Sahne11
Three scoops Vanilla ice cream with apple sauce, advocaat and whipped cream

7,50 EUR

Eiskaffee
mit einer Kugel Vanilleeis und Sahne11
Iced coffee with a scoop of vanilla ice cream and whipped cream

4,50 EUR

Eisschokolade1,11
mit einer Kugel Vanilleeis und Sahne11
Iced chocolate with a scoop of vanilla ice cream and whipped cream

4,70 EUR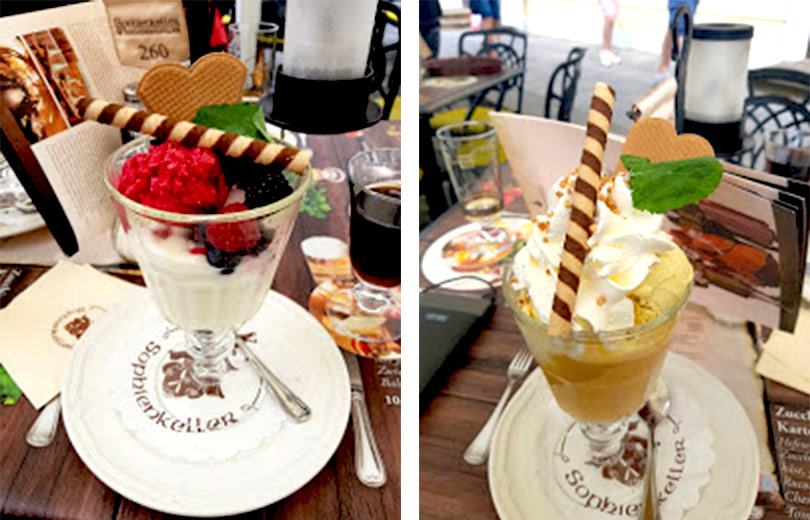 ---
Bei Lebensmittelallergie oder Unverträglichkeit reicht Ihnen unser Service gern eine separate Karte, in der Inhaltstoffe und Allergene gekennzeichnet sind.
1 Farbstoffe; 2 Konservierungsstoffe; 3 Antioxidationsmittel; 4 Geschmacksverstärker; 5 Schwefeldioxid; 6 Schwärzungsmittel; 7 Phosphat; 11 Süßungsmittel